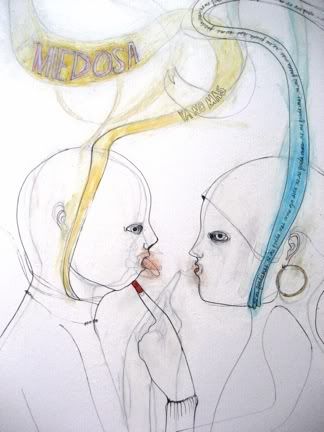 Just Between Us is a solo exhibit of drawings by local artist and curator Jackie Milad.
Exhibition: May 15 - June 15, 2008
Opening Reception: Thursday, May 15 from 7-9 p.m.
The exhibit will include catalogues for sale and a catalogue essay by Jack Livingston.
"Ms. Milad's exuberant andro-fem figures mix archetypes, channeling the likes of Nefertiti, Carolee Schneemann and Courtney Love into one timeless sweetly odd and transgressive "her". They possess a fairy-tale power similar to the late works of the poet Ann Sexton."-Excerpt from review in Peek Review, by Jack Livingston.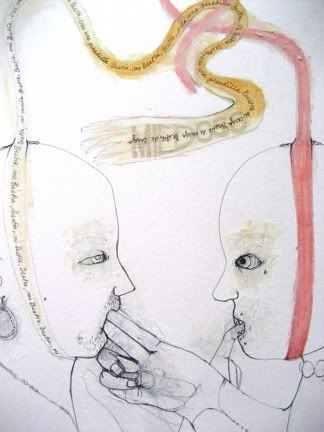 BIOGRAPHY
Jackie Milad is an artist who works with drawing, performance art and installation, and often creates projects that brings these disciplines together. Her projects explore the awkward moments shared between people.
She has exhibited internationally and nationally in such places such as The Contemporary Museum in Baltimore, Gallery 32 as part of the London Biennale, Delaware Center of Contemporary Art in Wilmington, Museum of Fine Arts in Mazatlan, Mexico and Galeria del Jovenes in Culiacan, Mexico.
In 2005 she earned her MFA from Towson University, and in 2000 she received her BFA from Tufts University and the School of Museum of Fine Arts. In 1998, Ms. Milad studied painting at the Studio Arts Center International in Florence Italy. She is currently Program Coordinator for the Union Gallery at University of Maryland, College Park. In the winter of 2007-08, Ms. Milad traveled to West Mexico to begin her research and field recordings of local whistling habits.